Inaugural UA Drone Day
March 23, 2022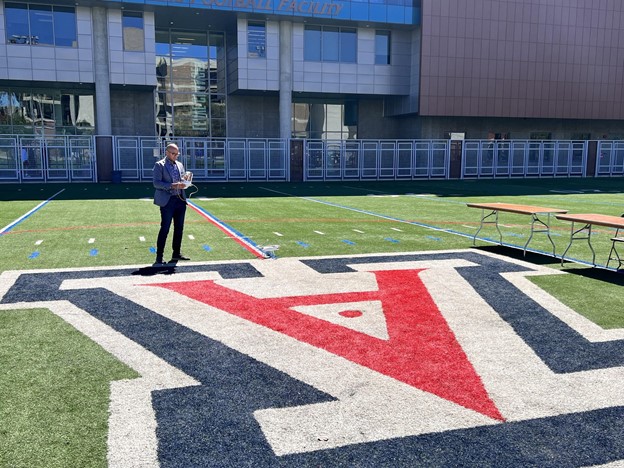 Congratulations all around for the successful inaugural Drone Day that was held March 23, 2022 on the UA Campus.
This past Wednesday we held the first UA Drone Day on the University of Arizona campus. The goal of UA Drone Day was to bring together people from across campus and the surrounding community who are using or interested in using drones in research. Speakers representing four of UA's colleges presented a diverse range of ways in which drones are used in research and teaching at UArizona. 
We began the morning with Dr. Kamel Didan from the Vegetation as our Keynote speaker addressing a full room; his talk, "Drones Now and In the Future: Challenges and Opportunities" walked us through the history of aerial observation. He gave insights into recent developments that have enabled widespread use of drones in research, and future opportunities for the use of drones in measurement and discovery.
Following Dr. Didan's keynote, we had a series of speakers who covered a wide range of topics. These topics included flying over volcanoes, Campus Security on the importance of registering drones and flights, researching drone mounted multi-camera arrays, radiometric calibration, monitoring construction sites, and the use of long wavelengths to make it easier to detect drones. These topics prompted questions and discussions between attendees, identifying areas of overlap and opportunities for collaboration. Most talks introduced new concepts and ideas to other attendees. Please see the Drone Day page for the complete list of our speakers. Most of the talks have been uploaded to YouTube, and slides are available on OSF.
After enjoying lunch, we went to Bear Down Field for some drone flying. This may have been everyone's favorite activity, and it provided a hands on opportunity for participants to see equipment and learn new techniques. Omar Youssef, Rosa Bevington, and Truman Combs all flew drones over the field. The data collected by some of these flights will be curated and made available through the UA ReData archive.
UA Drone Day 2022 was organized by David LeBauer and Chris Schnaufer in CCT-Data Science and was sponsored by the College of Agriculture and Life Sciences.

You can sign up for our Drone Discussion Group at https://list.cals.arizona.edu/mailman/listinfo/uas. We meet on the last Monday of every month and would love to have you attend. By signing up, you will have the opportunity to help organize and be among the first to learn about UA Drone Day 2023!